Prices 2023 – Hotel Paraiso del Cocodrilo
Prices Accommodation Costa Rica. Here the Costa Rica  room offers for 2023/24
The price vary's according to the season and situation.
From May 1st to 31st October (in the green season, low season). The other tariff is during the main season from 1 November 2023 to 30 April 2024.
The current tariffs are in US$. The dollar is a recognized currency in Costa Rica, and everyone has an idea how to convert.
The prices are approximate as they vary within the year. If you want to know the exact price for the period you can always call us or write a message.
We offer:
Double apartments with 2 beds, bathroom, AC, refrigerator and terrace around $75

Large apartments with 2 separate bedrooms (3 beds), bathroom, equipped kitchen, AC and terrace around $155

Large apartment with 3 beds, bathroom, equipped kitchen, AC and terrace around $150

Apartments 35m²;

2 beds, bathroom, equipped kitchen, AC and terrace around $85

Separate apartment;

3 beds, bathroom, equipped kitchen, AC and terrace approx.155$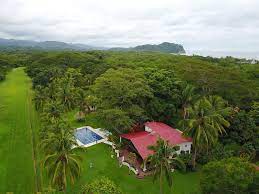 spirit of the jungle – Costa Rica
All tariffs on request. Ask us for the best tariffs!
pickups:
Lift from San Jose Alajuela Airport USD 200

Lift from Airport Liberia USD 140 / USD 150
The quoted tariffs are valid for the year 2023
Stay in touch eco lodge costa rica, phone +506 88328195
Rooms and Apartments 
Our philosophy is to create an individual style and atmosphere in every room and apartment. No basic hotel elements. All authentic costa rican and art and products.
Our double bed rooms have room for four persons in 2 double beds. They also have a fridge and a private bathroom. We will provide towels for you. Enjoy the jungle sound on your own terrace with a cold beer in the evening or coffee in the morning. 
The Apartments fit four our six persons depending on the category in two or three double beds. The Apartments also have curtains dividing the room to provide more privacy. The kitchen includes all necessary cooking wear. You can enjoy your meals on the eating table in your apartment or on the sitting area on your terrace. The apartments are located in three different houses distributed on the lodge, so its never getting crowded.
All rooms and apartment have air condition and good WiFi. The Lodge pool is 18 meters long. Take a swim in the morning or during the day. We have plenty of comfy bath loungers for the perfect pool day.
Restaurant organic 2023
Our restaurant is located in the center of the lodge. We offer breakfast, lunch, dinner and cocktails. The restaurant opens at 7 am and closes around 8-9 pm depending on the season. We also have live music sessions sometimes.
We place great value on local organic food.
Enjoy a traditional costa-rican breakfast for 3900 Colones or fluffy pancakes for 4000 Colones. Main Dishes go from 3950 Colones for the Vegetarian pasta to 5900 Colones for Chicken dish or 6000 Colones for a beef dish. Fresh fish with a side of rice and salad costs approximately  7500 Colones.
We also have some fruit and ice cream desserts starting at 2500 Colones. The tropical Cocktails start from 3000 Colones for a Margarita or Vodka Lemon.
spirit of the jungle – Costa Rica mail 2023
In the morning already from 5.30 am. Sun pure and you can smell the summer.. The temperatures are around 28 degrees C. You can cross the river to the sea at Playa Buena Vista again easily at low tide.
will home tariffs drop in 2023 – 2023 housing market predictions – 2023 cars – will home prices drop in 2024 – stock market predictions 2023