We offer accommodation in Costa Rica: Rooms and apartments in our innovative eco lodge  Hotel Paraíso del Cocodrilo. This individual Costa Rican hotel is located in Samara, province of Guanacaste.
Only a few miles from the beach resort Sámara, is the beautiful seaside of Buena Vista and also the white sandy beach of Barrigona.
The best eco resorts in the world should have a individual concept and a eco friendly approach. Our concept meets those criteria. 60 Percent of our guest come on recommendation from friends and family. We also have a lot of guests that like to come back.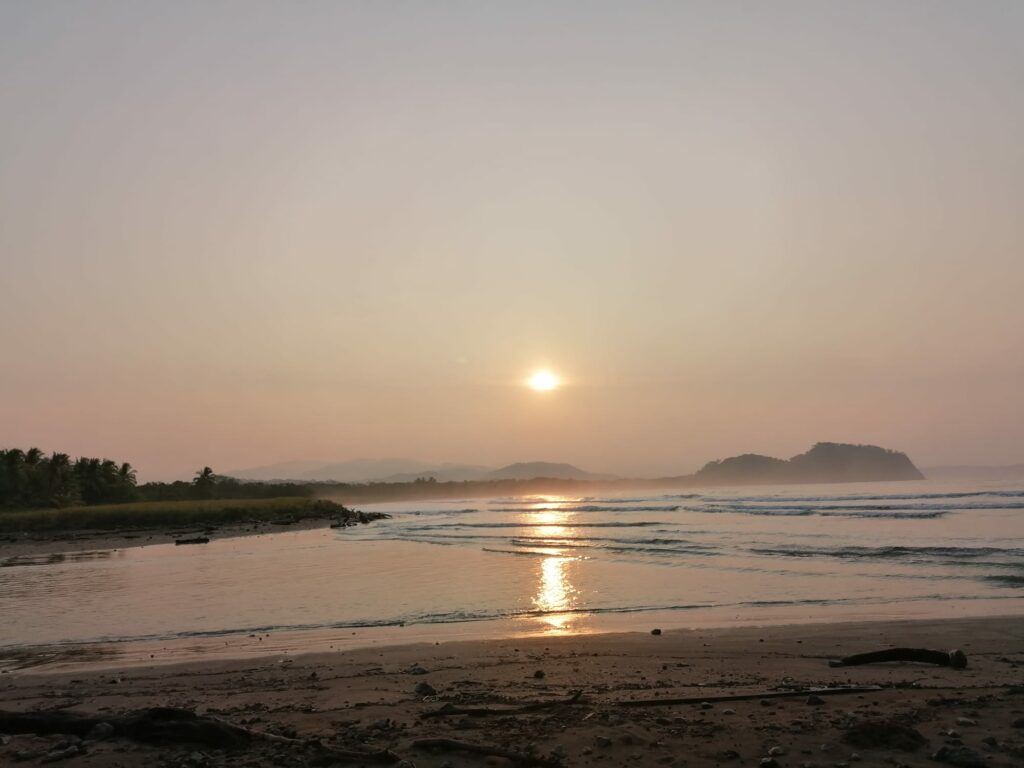 We are located right next to a nature reserve and make sure to reduce our impact. You can spot lots of tropical plant and wildlife on our lodge.  We grow our own papaya, mango, tomatoes and paprika. Our happy chickens located at the end of the property provide us with quality eggs.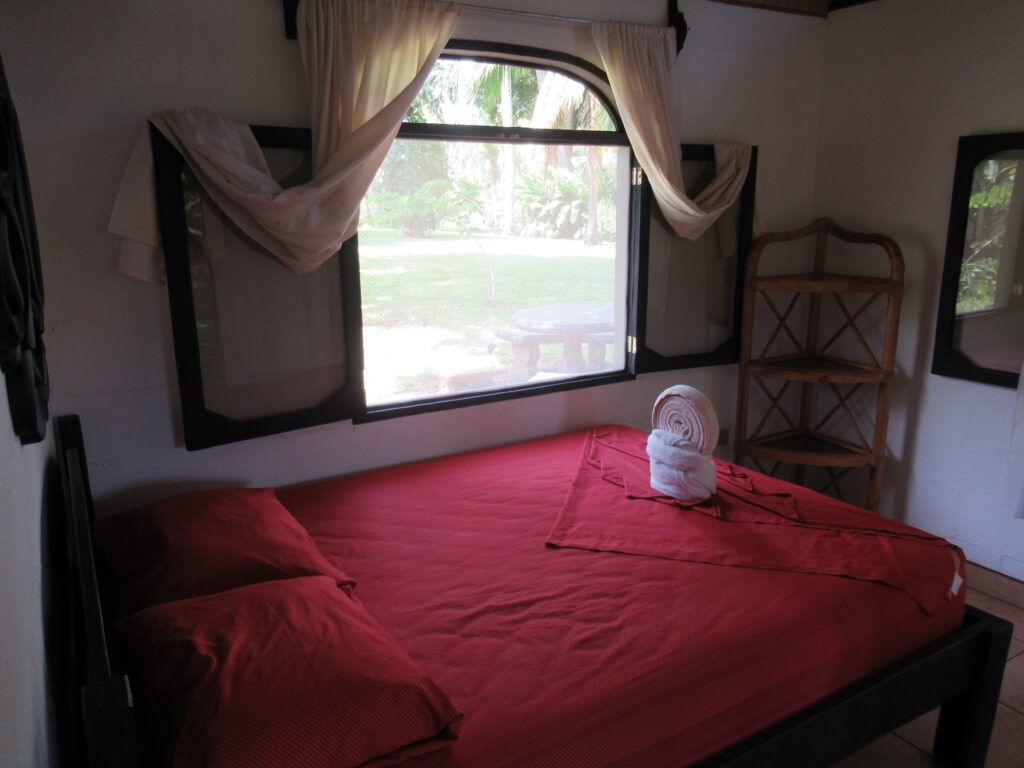 Accommodation Category's
We provide comfortable apartments and rooms in an individual style. All rooms possess air condition. Likewise in the apartments are also provided a a kitchen and a private garden or terrace. Furthermore all rooms and apartments offer large, separate bathrooms. Besides that, our hotel commands an apartment with two separate bedrooms. This apartment also is equipped with AC, TV, kitchen and a bathroom. The Wifi is free and very good on the whole property so you can have a video call or watch a video in your room, on the pool or in one of our hammocks.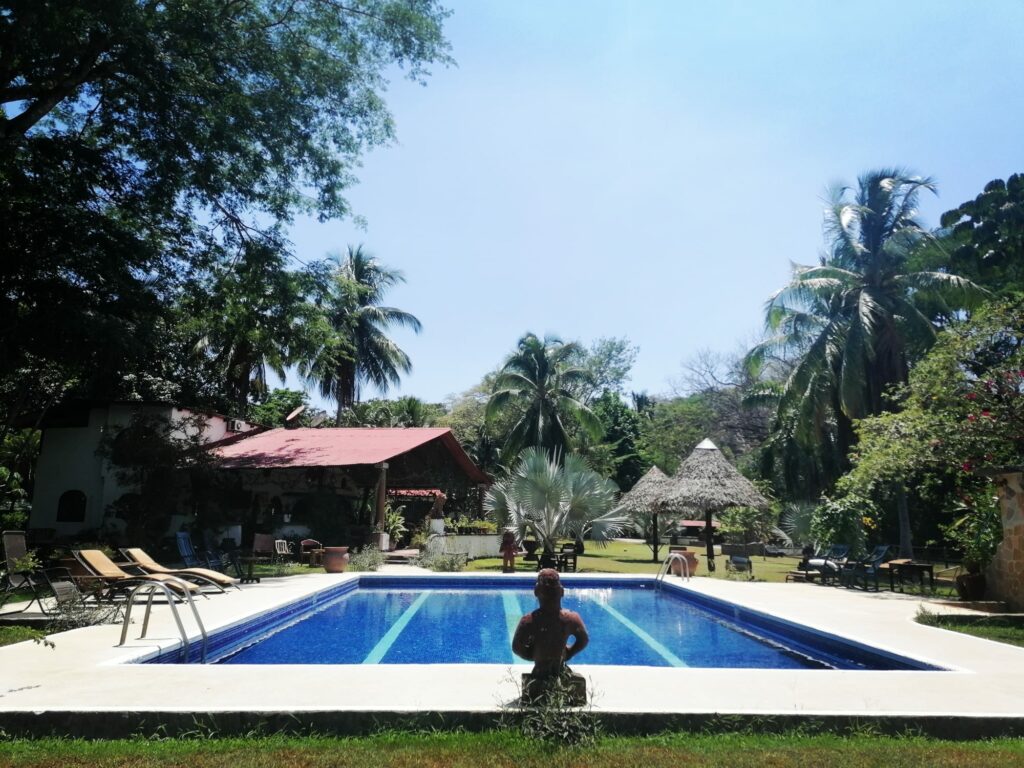 Certainly our garden terrace is a perfect place to relax. Therefore enjoy the beauty of the nature that surrounds you and get an excellent Costa Rican café, or an exotic drink offered by our bar. We recommend this place for quiet and peaceful vacations and travel. Besides that, also for adventurous people, who have fun exploring their environment.
We also have wireless internet in the hotel.
Accommodation Eco Lodge – Rooms and Apartments
You find our vacation Hotel Paraíso del Cocodrilo near the turtle beach Buena Vista. The sandy beach is just a 10 minute walk away. And the white sandy beach Barrigona, not far from the small town Sámara on the Pacific Coast of Costa Ricas, Province Guanacaste. Due to this unique surrounding the beach resort Sámara has been a tourist destination for numerous tropical lovers for quiet some time now.
Apart from the beach, you can easily reach the jungle and volcanoes that are located closely to this place. Our calm island allows you to be in Sámara within a few minutes or, if you prefer, to relax at the beaches Buena Vista, Barrigona or Carrillo. Spend your vacation in an oasis of comfort, security and tranquility.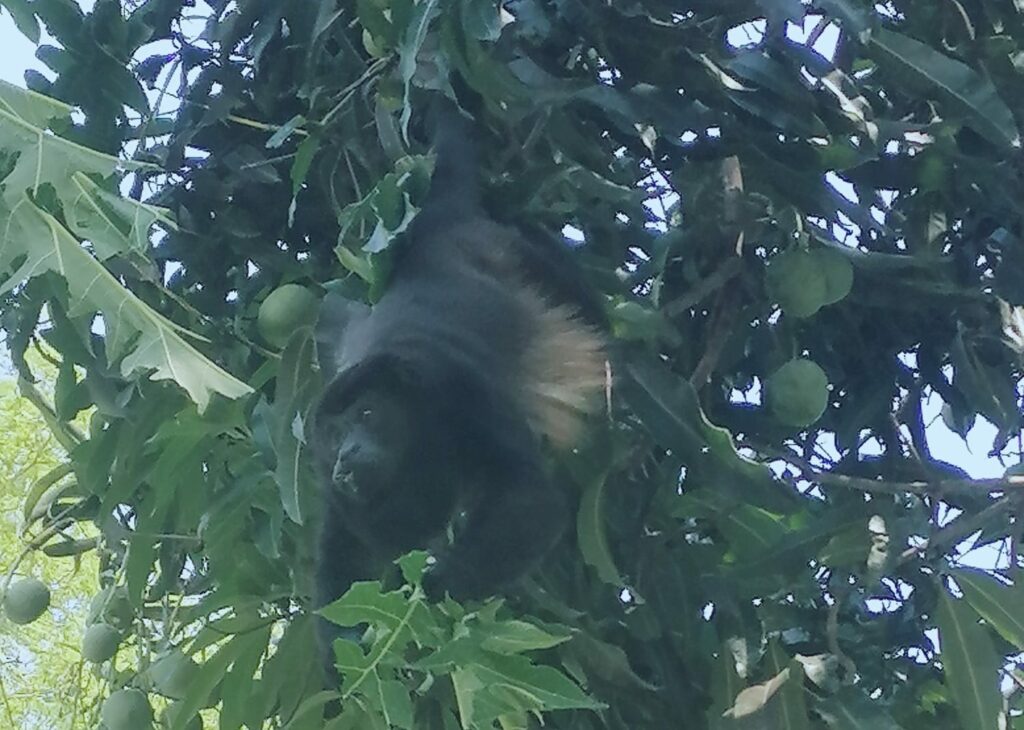 The Costa Rica Hotel – lodge costa rica – the ideal place to relax. Because we offer you high comfort and a personal atmosphere, in which you can enjoy the beautiful nature paradise of Central America. Visit us and relax in our natural paradise.
Accommodation Eco Lodge – Apartment
Our Ecolodge Apartments fit 4 to 6 people in double beds depending on the category and include a kitchen and a bathroom. Extra beds and beds for children are limited available. Please let us know in advance if you have any special requirements so we can make sure to meet your expectations.  The Apartments all have ventilators and air condition.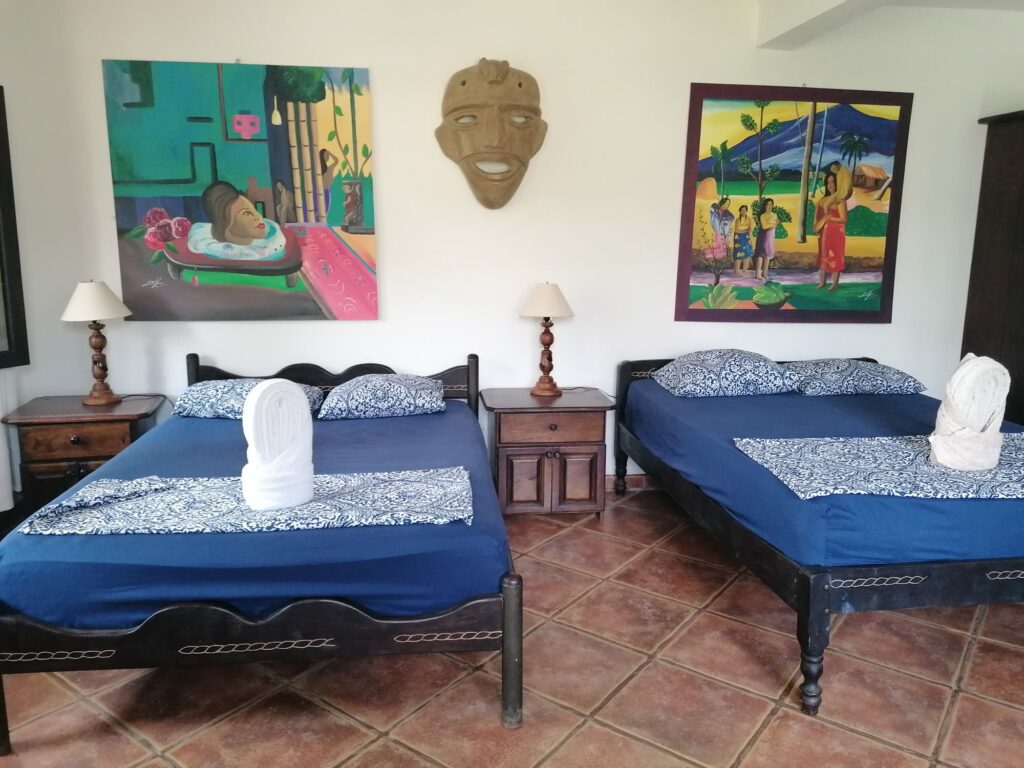 The kitchens have gas stoves and all necessary cooking wear and dishes. Off course we also provide you with a fridge. Some more equipment like a toaster and coffee machine can be found as well. If your not motivated to cook for breakfast, lunch or dinner just step in to our organic restaurant that is open from 7 am to 8 pm.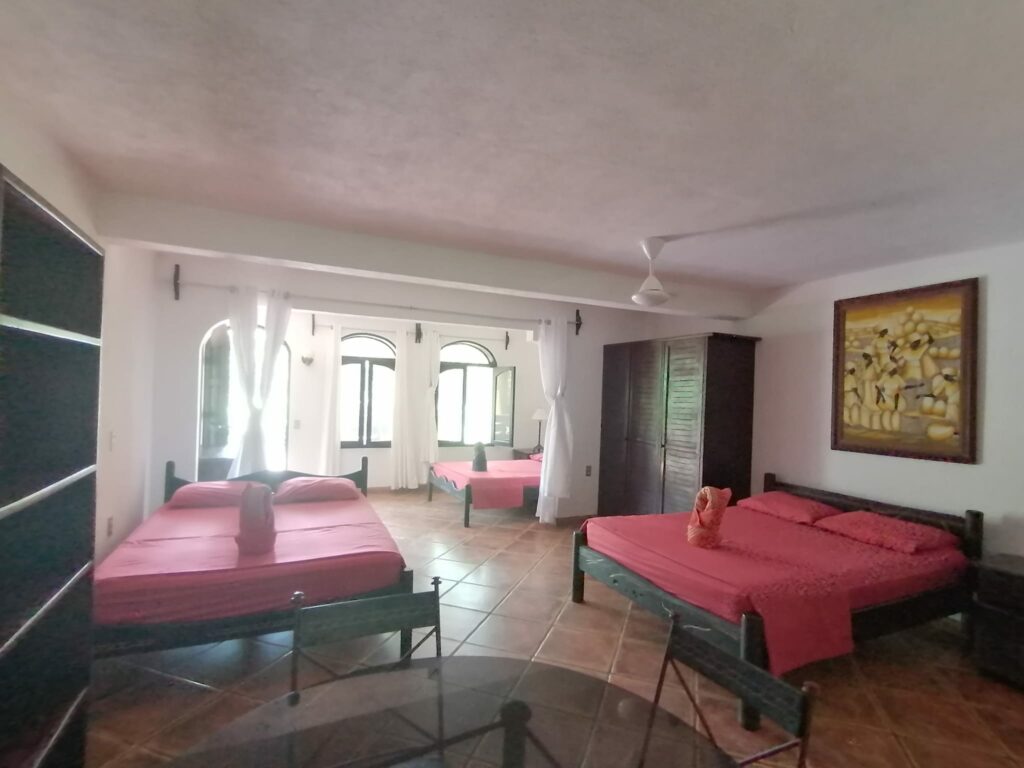 Every apartment has there own terrace with a comfy chill area. There is plenty to explore on the property. The Pool, Plants, Wildlife as well as the jungle walk the the beautiful Playa Buena vista.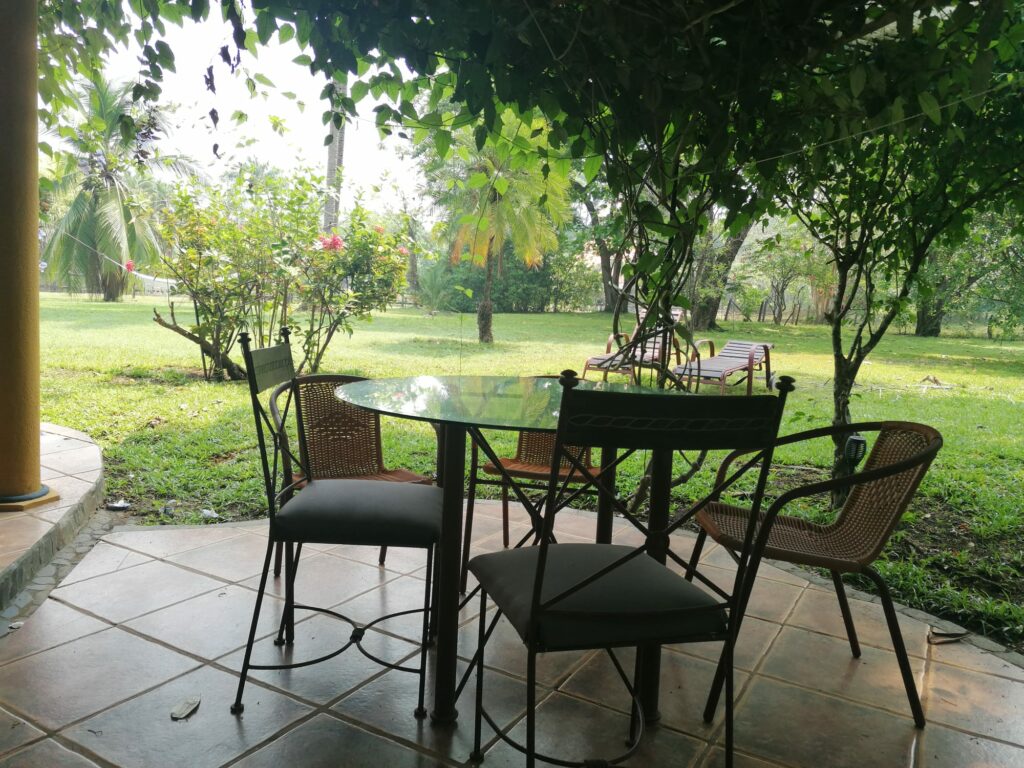 It is possible to wash laundry if there is the capacity. Just let our staff know.
Accommodation Eco Lodge – Bungalow
The best eco resorts for families should have lots of space to play around. Over the years lots of friendships we formed in our lodge between kids and parents.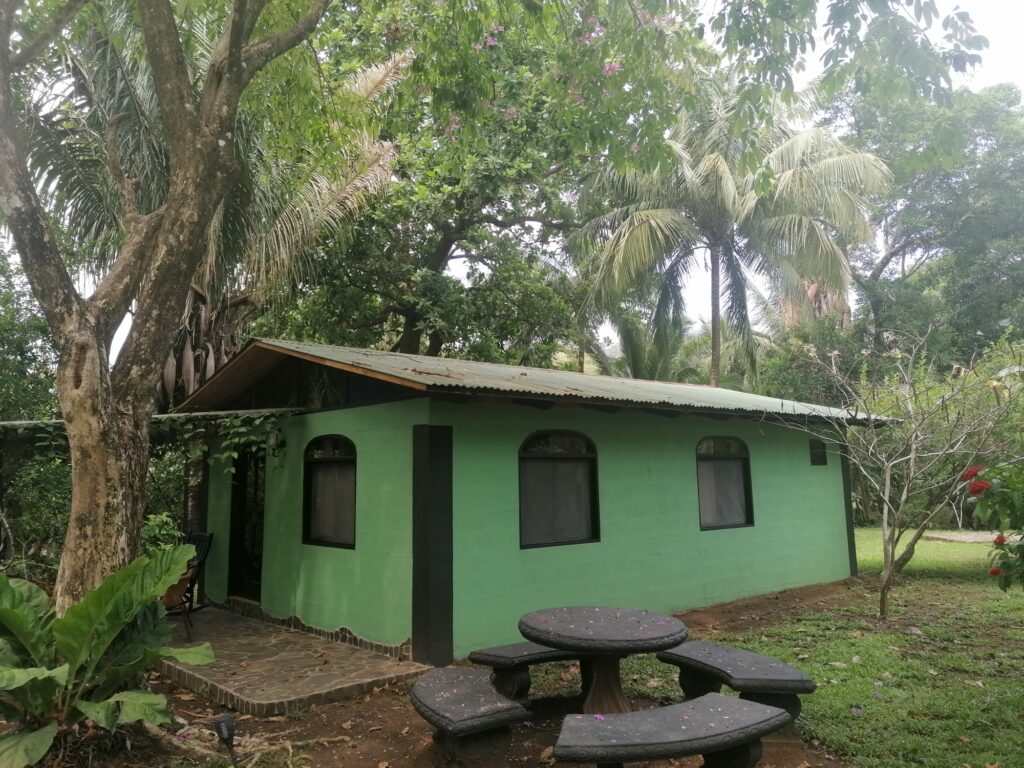 We offer a Bungalow for six persons. The Accommodation includes 3 double beds additionally separated by curtains to provide more privacy. The bungalow also has a private kitchen and a bathroom ass well as a terrace right next to the jungle with a comfy eating table and a chill area. The kitchen consists of a gas stove, fridge, cooking wear, a toaster, coffee machine  and dishes.
If you are missing any groceries there is a small supermarket in Buena Vista just 2 Minutes away and off course much more shopping opportunity's in Samara.
Their are also ventilators to keep the room cool. From the terrace you can spot monkeys and other animals . The Lodge restaurant and pool are just 40 meters away.  On the property are also many more chill areas where you can relax and spot some Costa Rican wildlife or read a good book. There are lots of hammocks stretched between the high palm trees.
Double Bed Room – Accommodation Eco Lodge
We offer several double bedrooms, as our cheapest accommodation category. All rooms have 2 double beds and a private bathroom. As well as a fridge and ventilator. Those rooms don't have kitchens but there is a restaurant on the property that serves breakfast, lunch and  dinner. The double rooms have there own little terrace as well with a sitting area.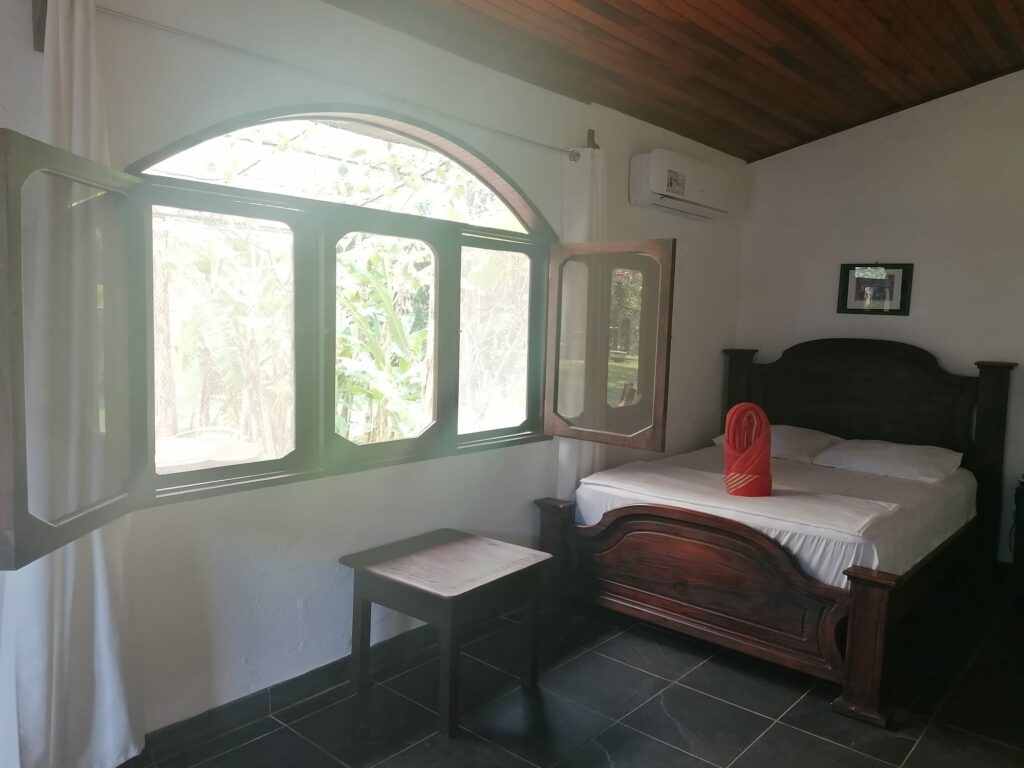 The rooms are all individual. We are happy to any suggestions to improve our jungle lodge.
Organic Restaurant
The Organic Restaurant is located right in the center of the Jungle Lodge. From 7 am to 8 pm ( longer opening hours during high season) we provide you with local organic dishes.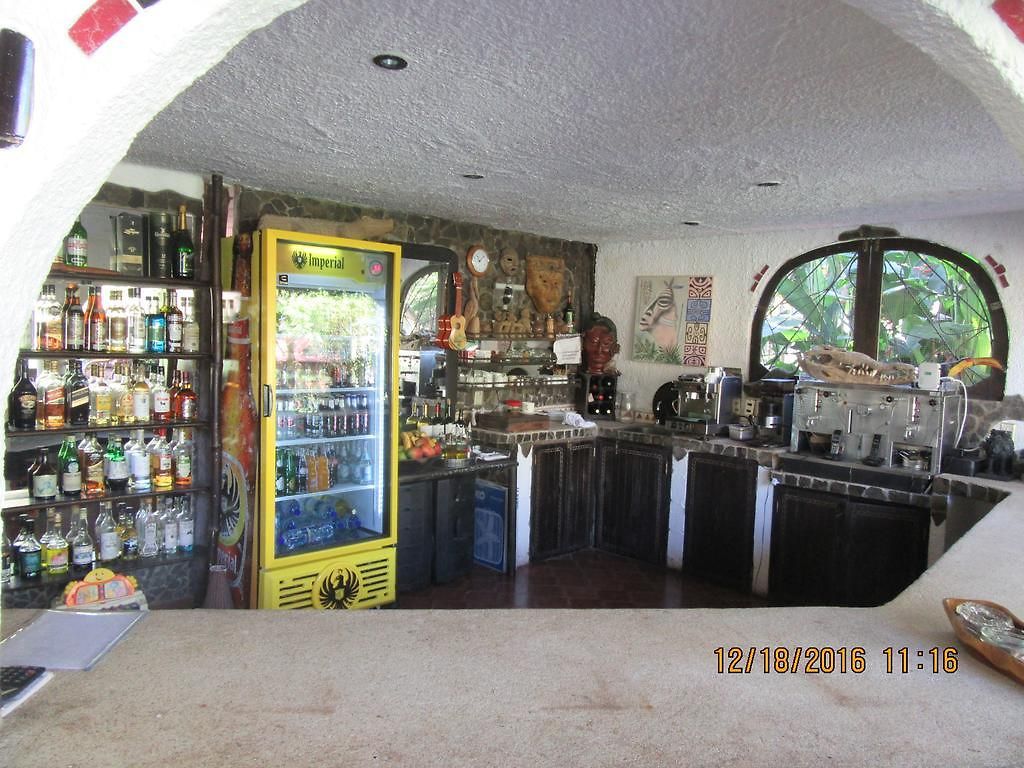 In the morning you have lots of choices for your breakfast from the typical Tico breakfast  "Gallo Pinto" to fresh fruit salads and Pancakes. We also have some nice snacks like fresh fries, tortilla with guacamole, fried platano and sandwiches. Our coffee is organic and will defensively wake you up. From a basic black coffee to a fancy cappuccino is everything possible.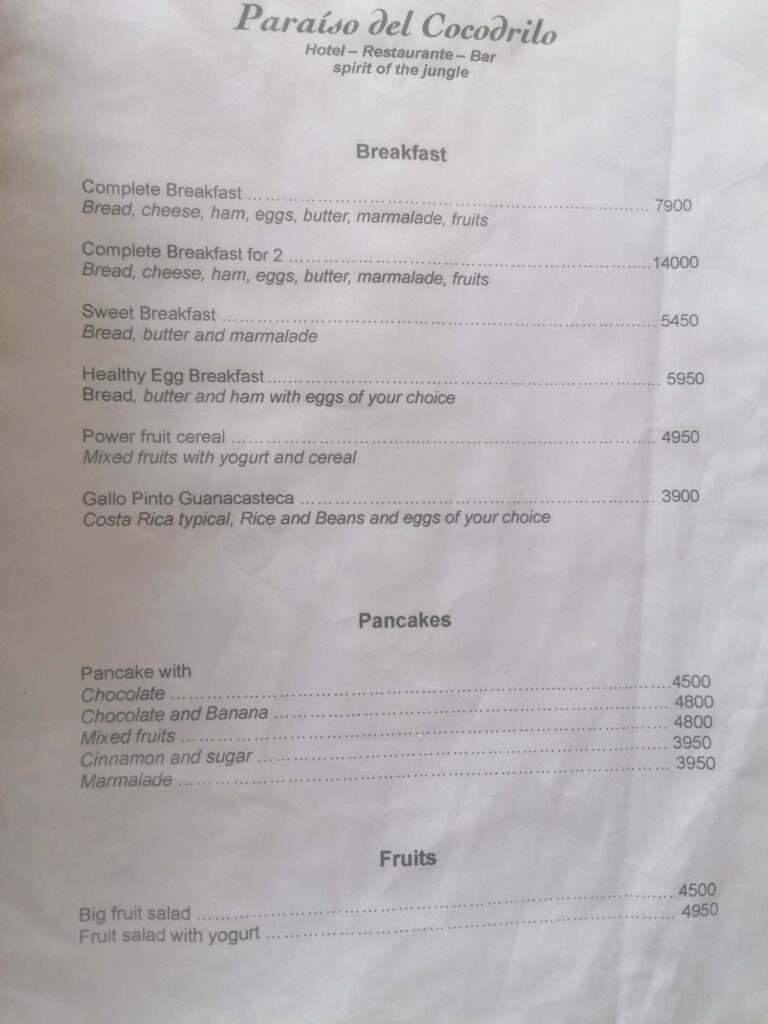 For dinner we have diverse pasta, meat and fish dishes. Our chicken and beef is bought local and has very high quality. You must try our Burger with fries, the chicken piri piri and the fresh fish filet.
Of course we also have vegetarian choices on our menu. Enjoy the platano handpicked in our garden with tortilla and a fresh guacamole and bean paste or the vegetable pasta.
For Dessert we offer different ice cream cups with fruit and chocolate sauce. We also have a great variety of drinks and cocktails.  Take a look at our bar and let us know your choice.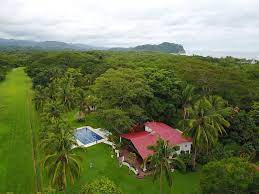 How to build an eco lodge?  Get in touch with the basic ideas and develop your own individual concept. If your interested in ours come visit us in Buena Vista.
We are hiring interns for our eco lodge in samara.
Information in Spanish – Accommodation Eco lodge
Information in German – Accommodation Eco lodge